Using EBF Onboarder to migrate to Microsoft Intune
The EBF Onboarder for Microsoft Intune can be used to execute onboarding projects from many sources to Microsoft Intune.
An intuitive user interface intelligently integrates end-users into the process, relieving your IT department of the task. The combination of automation, standardisation and self-service minimises downtimes during the onboarding process and cut costs significantly.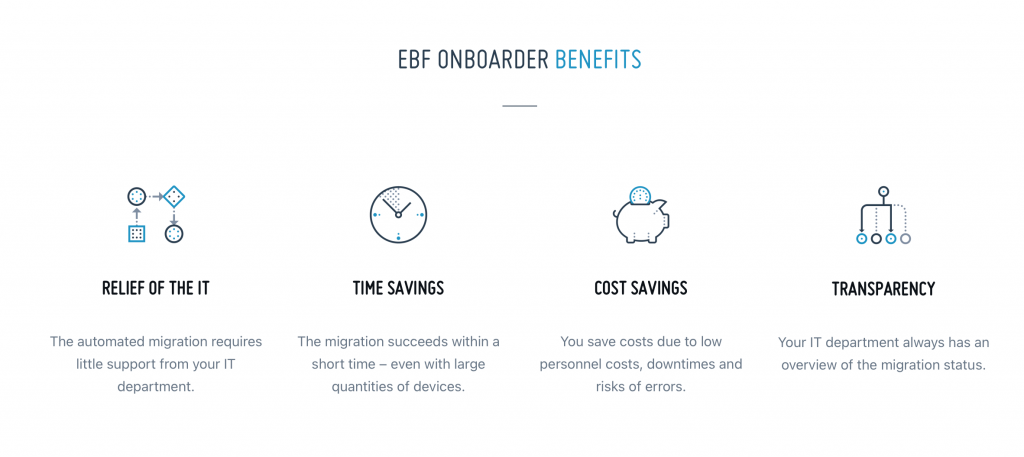 EBF Onboarder in the UK
Nine23 have partnered with EBF to host EBF Onboarder in the UK on our secure accredited UK cloud infrastructure, Platform FLEX to ensure UK Data Sovereignty.
Nine23 are the ONLY supplier to sell EBF Onboarder in the UK to Public Sector organisations via G-Cloud on the Digital Marketplace. Alternatively, you can buy from us directly.
Nine23 and EBF have successfully helped many UK Public Sector clients migrate devices to Intune.
Why should you use Microsoft Intune as your device management solution?
There are two ways to approach device management, you can manage different aspects of devices using the feature built into Intune which is known as Mobile Device Management (MDM) or you can manage the applications on devices which is known as Mobile Application Management (MAM). You can also use a combination of MDM and MAM.
Microsoft Intune is a cloud-based service that focuses on mobile device management (MDM) and mobile application management (MAM). You can control how your organisations mobile devices are used and you can configure specific policies to control applications. Intune allows the end-users to use their personal devices for work while making sure your organisations data is protected.
Intune helps you to continue achieving your Cyber Security needs.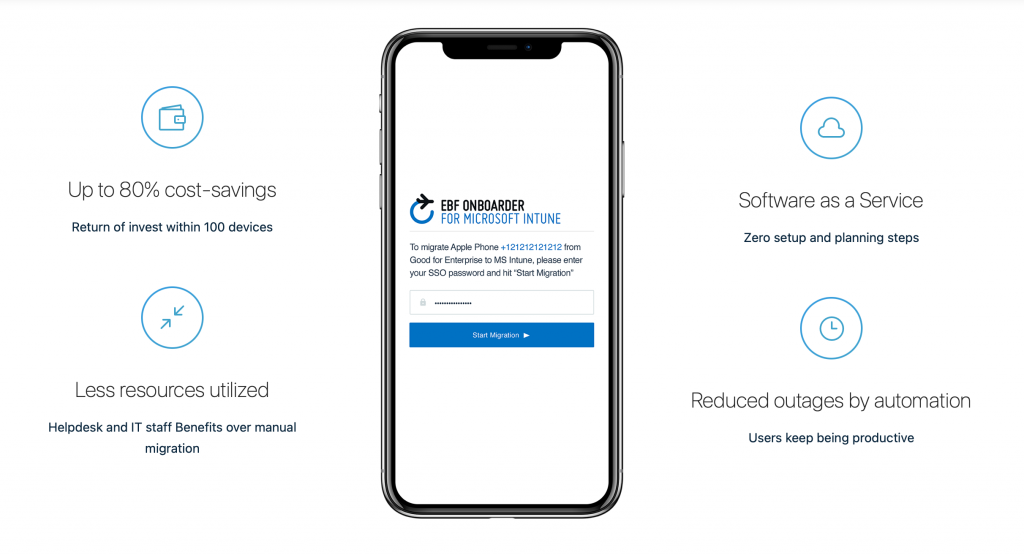 Intune is an essential part of Microsoft's Enterprise Mobility + Security (EMS) suite, an intelligent mobility management and security platform helping to protect and secure your organisation while empowering your employees (the end-users) to work anywhere, on any device.
Intune is integrated with Azure Active Directory (Azure AD) to give control over who and what they can access, protecting both company and personal information and it is integrated with Azure Information Protection (AIP) for data protection.
Microsoft Intune is available for different customer needs and organization sizes, from a simple-to-use management experience for small businesses, to more advanced functionality required by enterprise customers.
Intune is included in Enterprise Mobility + Security E3 Subscriptions and Enterprise Mobility + Security E5 subscriptions therefore you will get access to some of the best security and data control possible. Having the added security of E5 is a main reason why organisations turn to Intune for their security and information protection solutions.
Examples of the use of Microsoft Intune in the UK Public Sector:
Police
Intune will enable the police to manage the mobile devices used to access sensitive  data and applications while ensuring the devices and apps are compliant with policing security requirements. It will also support initiatives to upscale mobile device rollouts and digital policing efforts across the UK.
Councils
Local authorities around the UK are always looking to take advantage of digital innovations to operate more efficiently and modernise the way their employees (the end-users) work and ultimately the services they provide.
Councils are beginning to use Microsoft Intune to manage large number of with their digital transformation projects. With many staff being mobile, Intune helps secure devices by using the conditional access feature in Microsoft Azure Active Directory (Azure AD).
Most councils already using Microsoft technologies could therefore save money by utilising their existing tool set, rather than purchasing additional services. The tools help to meet GDPR requirements, Public Services Network (PSN) compliance and obtain Cyber Essentials Plus certification.
NHS
In 2020, the National Health Service (NHS) chose Microsoft 365 and have deployed this to 1.2 million staff across NHS organisations. This could save the taxpayer hundreds of millions of pounds, improve productivity, enhance collaboration and strengthen cyber security across healthcare services.
Matt Hancock, Secretary of State, said: "Adopting the most up to date digital tools and operating systems are crucial for a modern-day NHS – allowing staff to work as efficiently as possible which will deliver even better care for patients. We have seen incredible, innovative uses of technology throughout the NHS during the COVID-19 pandemic and this new deal with Microsoft will pave the way for that to continue by ensuring we get the basics right."
Nine23 are your UK trusted supplier to help you from start to finish on your Microsoft Intune migration journey.
We host EBF Onboarder in the UK to ensure data sovereignty on Platform FLEX, our highly accredited (ISO 9001, 27001, ISO/IEC 20000) secure cloud delivering solutions at highly classified levels of cyber security (OFFICIAL-Senstive or Sensitive).
We are the only supplier to sell EBF Onboarder in the UK to Public Sector organisations via G-Cloud on the Digital Marketplace.
To start your Microsoft Intune migration journey with us please fill in the contact form or call us on 023 8202 0300.