Choose your perfect Managed IT Service
Tailored to your specific needs
Nine23 are your trusted Managed IT Service provider in the UK. We provide end-to-end managed services enabling organisations to benefit from secure, dedicated, expert management and support for their IT requirements, or escalated support to complement and enhance existing IT departments' capabilities and reduce workloads.
Our experienced Service Desk team is committed to providing excellent customer delivery and service, which includes KPIs for ticket resolution (unlike many of our competitors).
Our ITIL Aligned Service Desk toolset is configurable to meet our customers' needs – from client portal access to clear reporting.
Our Managed IT Service Catalogue
Nine23 have a proven track record of IT Managed support, with over eight years support provided to Government and Corporate Business across the UK. With our specialist expertise in IT security, Nine23 provide High Quality 1st – 3rd line support. Fully Managed Services include ITIL Aligned Service Desk, fully trained staff (SC level), monitoring and management of servers and storage.
Disaster Recovery as a Service (DR)
Nine23's DR Service provides continuity in the event of disasters such as cyberattacks, natural disasters, or any other event which significantly disrupts your ability to work. The DR service will replicate data to meet optimised RTO (recovery time objective) in order to provide cover when primary business sites are not available for any reason.
Business Continuity provides peace of mind when things go wrong. It enables your organisation to work in the event of a major disruption. Nine23 will work with you to understand your businesses requirements, providing a solution that meets your needs, so that your users can carry on working.
The Nine23 complimentary service provides tailored support to work with your existing IT team, from managed service desk for your onsite support team, to triage and log tickets, or senior level tech. This service enables you to extend the IT expertise within your organisation, whilst decision making and ownership remain with you.
Nine23's Managed IT Services Operation Model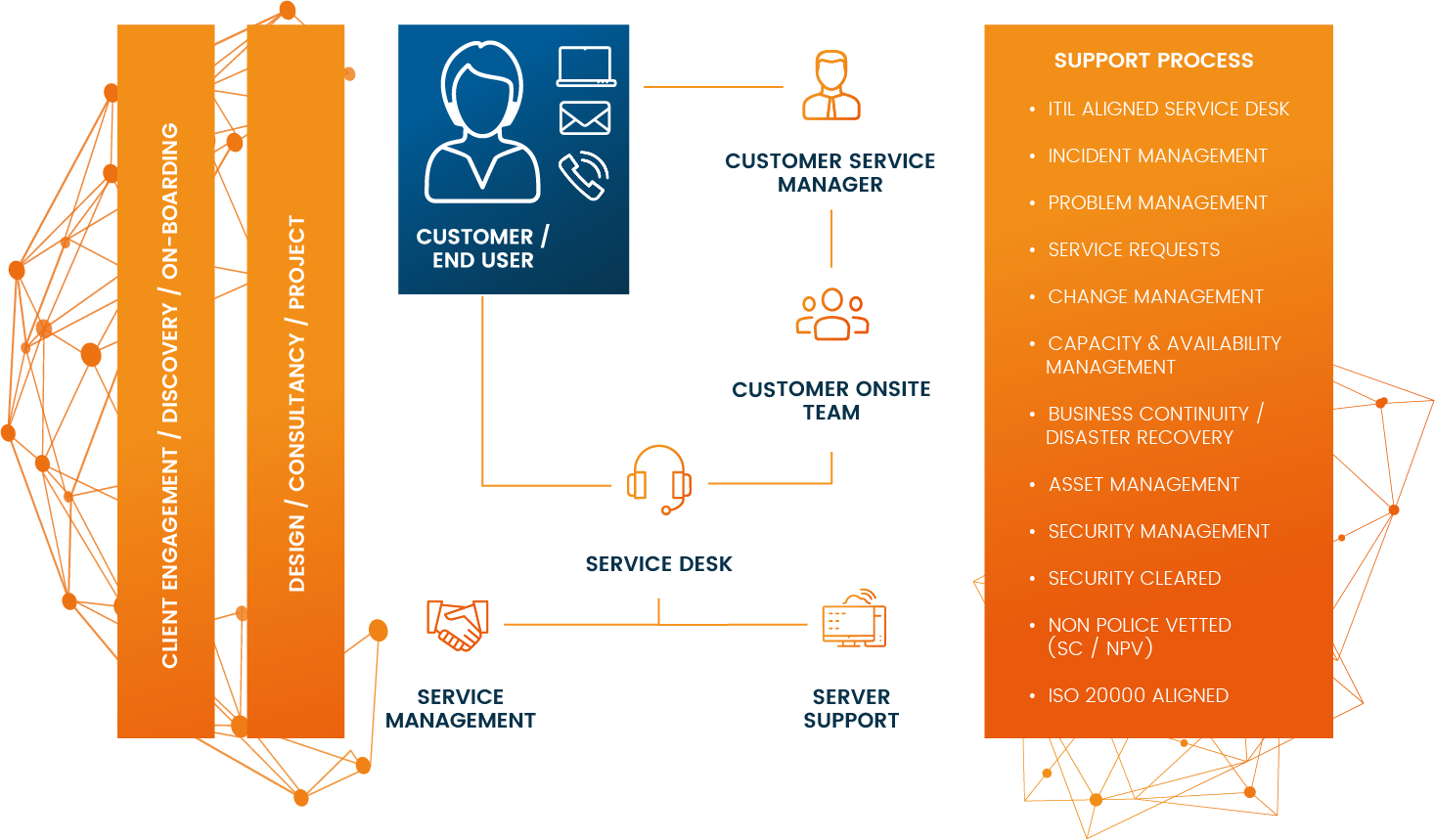 Do you need some advice on what Managed IT Service is right for you?
Why choose Nine23 as your trusted Managed IT Service Provider?
Today's end-user expects to operate at work in the same way they do at home – consumer simplicity with enterprise security. We passionately believe that you, the client / customer / frontline end-user should be at the heart of everything we do, empowered to use technology securely and by delivering outcomes for your needs.
Nine23 is a highly competent trusted IT solutions company with a team of talented and experienced individuals. We have proven this through multiple service deliveries of user-focused, nationally accredited solutions, in complex environments and by enabling some very prolific end-users.
We have consistently achieved the highest levels of accreditation (ISO 9001, 27001, ISO/IEC 20000) from national bodies to provide confidence that the systems we develop can be used at highly classified levels of cyber security (OFFICIAL-Sensitive or Sensitive).
If your organisation requires the processing of UK personal data our fully managed, Nine23 owned enterprise infrastructure, Platform FLEX located in secure UK hosting locations with connectivity to government/corporate networks and internet connected organisations using proven secure access solutions to ensure your data is protected.
Our Latest Services & Solutions Insights