What We Provide – Solutions
At Nine23 we provide Cyber Security solutions & services ranging from large-scale adoptions of digital transformation to self-contained advisory packages within existing  projects that encompass technical architecture, information assurance (IA) and above all the end–user experience. 
Our services are underpinned by a mature and accredited private cloud EMM platform FLEX that delivers the benefits of Cyber security and enables the End-user. The network connectivity and gateway services to other public cloud and secure networks are already in place and certified.
We offer many elements of the digital transformation journey and all our services can be used in a modular way. Above all our services are about enabling the end-user.  
Talk to us about enabling your end users today.
Nine23 provide full managed service for those customers that would rather have experts securely managing and supporting their IT requirements, or escalated support to complement and enhance existing IT departments.
With our experienced and passionate Service Desk team we are committed to providing excellent customer delivery and service, which includes KPI's for ticket resolution (unlike most of our competitors).
Our ITIL aligned Service Desk toolset is configurable to meet our customer needs – from client portal access to clear reporting.
See below for a visual representation of the Nine23 Managed Service fits together.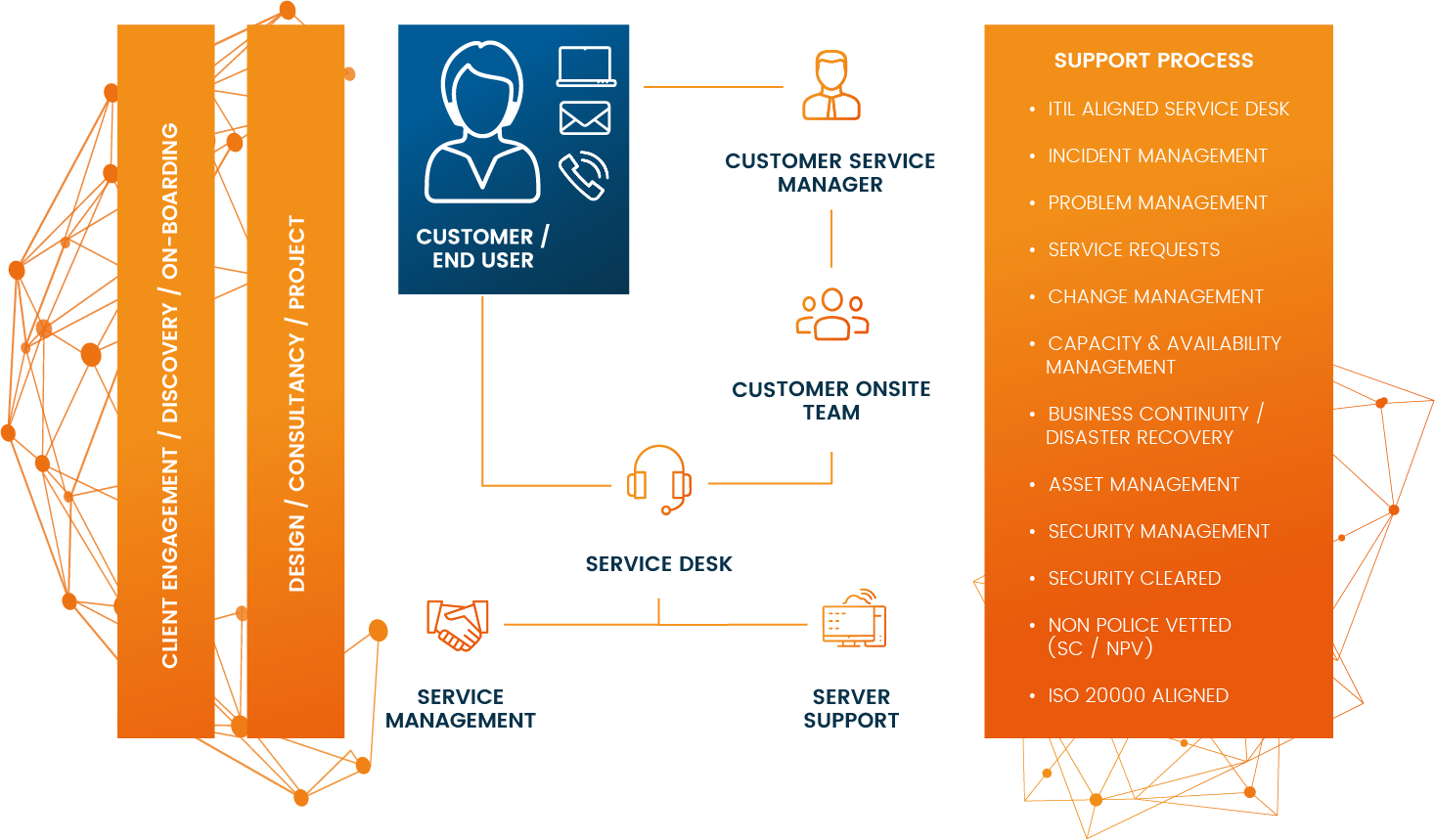 Fully Managed IT Service
Nine23 have a proven track record of IT Managed support with over 8 years support provided to Government and Corporate Business across the United Kingdom. With our specialist expertise in IT security, Nine23 provide High Quality support from 1st – 3rd line. Fully Managed Services includes ITIL Aligned Service Desk, fully trained staff (SC level), monitoring and management of servers and storage.
Complimentary IT Service
The Nine23 complimentary service provides tailored support to work with your existing IT team. Offering the benefits of broadening the IT expertise within your business, whilst decision making and ownership remain with you. Whether you just need a managed service desk for your onsite support team to triage and log tickets, or senior level tech.
Disaster Recovery as a Service (DR)
Nine23's DR Service provides continuity in the event of a Disaster such as a cyberattack, natural disaster or any other event which significantly disrupts your businesses ability to work.  The DR service will replicate data to meet optimised RTO (recovery time objective) in order to provide cover when primary business sites are not available for any reason.
Business Continuity (BC)
Business Continuity provides peace of mind when things go wrong. It enables your organisation to work in the event of a major disruption. Nine23 will work with you to understand your businesses requirements, providing a solution that meets your needs, so that your users can carry on working.
Cyber Security as a Service (CSaaS)
The National Cyber Security Centre (NCSC) has a remit to make the UK the safest place to live and work online. A major part of this is with the Cyber Essentials (CE) Scheme which is a government backed scheme that will help you protect your organisation, whatever its size, against a whole range of the most common cyber attacks. CE has two levels – A self -help level following the five technical controls and the more detailed level of a Cyber Essentials Certificate (CE+). 
Nine23 have a number of services to help you gain CE certification and then manage this level of cyber security for you.  
 A consultancy approach in the first instance to understand your current position followed by either a report on what you should be fixing in your environment and/or a fully managed Cyber Secure as a Service (CSaaS) where we maintain your cyber security for you as a continued service. 
Secure Hosted Private Cloud
Nine23 are pleased to offer the FLEX Platform. A secure and scalable service offering customisable functionality within a private cloud instance including optional end-to-end accreditation up to Official-sensitive or Secret. Located in secure UK hosting locations with connectivity to government/corporate networks and internet connected organisations using proven secure access solutions.
Multi Cloud Hosting
Nine23 are able to offer multicloud solutions appropriate for your business. In today's modern cloud-orientated business environments it make sense to utilise those services that are beneficial to the organisation but not tied to one provider or service – maximising user experiences and business performance whilst potentially reducing costs.
Public Cloud Hosting (AWS, Azure)
Nine23 have a proven track record in providing services in cloud environments, whether you need this to be hosted, public, private, hybrid or onsite – Nine23 can help
Secure Application Hosting
Hosting applications for internal use can be fraught with difficultly if you are trying to make these publicly available, particularly if you are using a BYOD strategy. Nine23's Private App Store with secure private hosting area (up to OFFICIAL SENSITIVE or Secret) can help alleviate this issue.
Cloud Migration
Nine23's migration service can move or enhance your existing solution and utilise the scale, performance and potential cost benefits of cloud computing. Whether you just need some help in designing or planning the move, or if you need help moving or re-engineering for the cloud – we can help.
PSN Migration
The Public Sector is undergoing a fundamental shift in the way that it connects to services across all organisations and embarking on a journey away from the legacy PSN services. Nine23 can help you on that journey and help you migrate your existing PSN services to a new, user-centric cloud-first solution and be a part of your ongoing digital transformation
UEM / EMM Migration
Needing to transfer your mobile devices from one provider to another? This can be time consuming and costly, let alone the sheer logistics of potentially re-deploying vast numbers of devices. Nine23's hosted migration service can simplify this whole process with minimal user interaction, leaving you to focus on what's more important – your users.
Project Management
At Nine23 our project managers will take the opportunity to understand our customers business and the outcomes they need. Using Prince2 methodology these needs are interpreted into practical IT solutions which are implemented by skilled professionals leveraging our portfolio of technologies and services. Our project team coordinate both the internal and external resources required and regularly liaise with customers to ensure the scope and direction of each project is on schedule.
User requirement analysis
Our professional service team deliver the outcomes our customers need through high quality, reliable IT solutions. Our consultants, architects and project managers have the depth of experience and knowledge across technologies required to understand requirements and deliver the solution and services to meet them. We understand that every customers project is unique and that is why we go to great lengths to ensure that we plan and scope each project irrespective of size to determine the desired business outcome and project milestone.
Professional services
Nine23 experts to plan, design and, if required, implement secure (Official-Sensitive) enterprise projects. High-security remote access to government networks (HSCN/PPN/PND/PSN gateways). Impartial, vendor neutral advice prioritises user needs and outcomes in new-build, tech refresh/update or information assurance programmes. Also, cloud support professional services to Nine23 accredited FLEX platform solutions.
Digital transformation
Digital Transformation is in our view, the ability to integrate digital technology into your business and critically to enable the end-user. The way people use technology today has undergone a very substantial change over the last decade and that pace of change is ever continuing. The end-user should be put first in every digital transformation project.