Find your
perfect cloud
High-performance, reliable,
enterprise-grade tech
Nine23 offers a truly unique, tailored approach to cloud hosting, with a range of public, private and hybrid cloud services to suit any team – whether you're an SME, an international enterprise or public sector organisation, we are here to help.
Understanding the difference between Infrastructure as a Service (IaaS), Software as a Service (SaaS) and Platform as a Service (PaaS) can be confusing enough! Our dedicated and experienced team are here to guide you towards the best solution for your tailored needs. With cloud services that remove the need for internal infrastructure or hardware and allows you to only use what resources you need and pay for what you actually use!
Nine23 owned and managed infrastructure. 
A fully managed dedicated hardware platform. Your data is processed, stored and backed up in complete isolation enabling you to assure your data to the security levels that you require and beyond. Best for total security control, with predictable / fixed costs, usage patterns and built in flexibility / scalability.
Fully managed AWS and Azure solutions.
A fully managed service built on a public cloud service such as AWS or Azure, suited to the business and user needs – up to the OFFICIAL security classification. Best for solutions that need quick or hyper scaleability and flexibility with variable usage patterns.
Build and manage across any cloud with a common platform.
A fully managed service connecting one or more existing on-premise and cloud services, providing the best services for the business and user needs with the flexibility to move and scale as needed. Best for solutions where a mix of requirements are in place but takes advantage of cloud services to provide optimum user experience and business results.
Build and manage with multiple cloud platforms.
Fully manage your cloud-based services across multiple providers. Sourcing multiple public and/or private clouds from multiple vendors and using them either for their unique cloud capabilities to perform one tailored task or to provide additional resilience and scale. Our multi-cloud offering provides increased flexibility, optimisation and resilience.
Platform FLEX, A next-generation cloud UK platform infrastructure that is fully-managed and Nine23-owned. It enables the end-user to function more effectively and productivity in the field; accessing, sending and sharing data as needed, without having to return to base for reporting or admin.
Platform FLEX is ideal for organisations that seek to:
Enhance the customer experience: Enabling the end-user securely
Improve your outcomes: Seamless user experience/access to information when needed
Maximise your potential: Private, Public and Hybrid Cloud Capabilities
Optimise your resources: Fully Managed Service Management, Performance/Statics reporting
Accelerate your progress: Private cloud deployed environment in place today
Reduce your Cyber risk: National Cyber Security Centre (NCSC) Guidelines followed
Protect your information: UK Hosted Data Centres – Accredited architecture
Operate with confidence: Secure network access PSN, PNN, PND, RLI/ALI, HSCN
Platform FLEX is a privately owned cloud environment that enables organisations to improve and accelerate field effectiveness by enabling users to communicate securely and receive, share and send information without the time-consuming delays often involved in returning to their desks to file reports, add information to core databases, or to simply find out what they need to know.
Learn More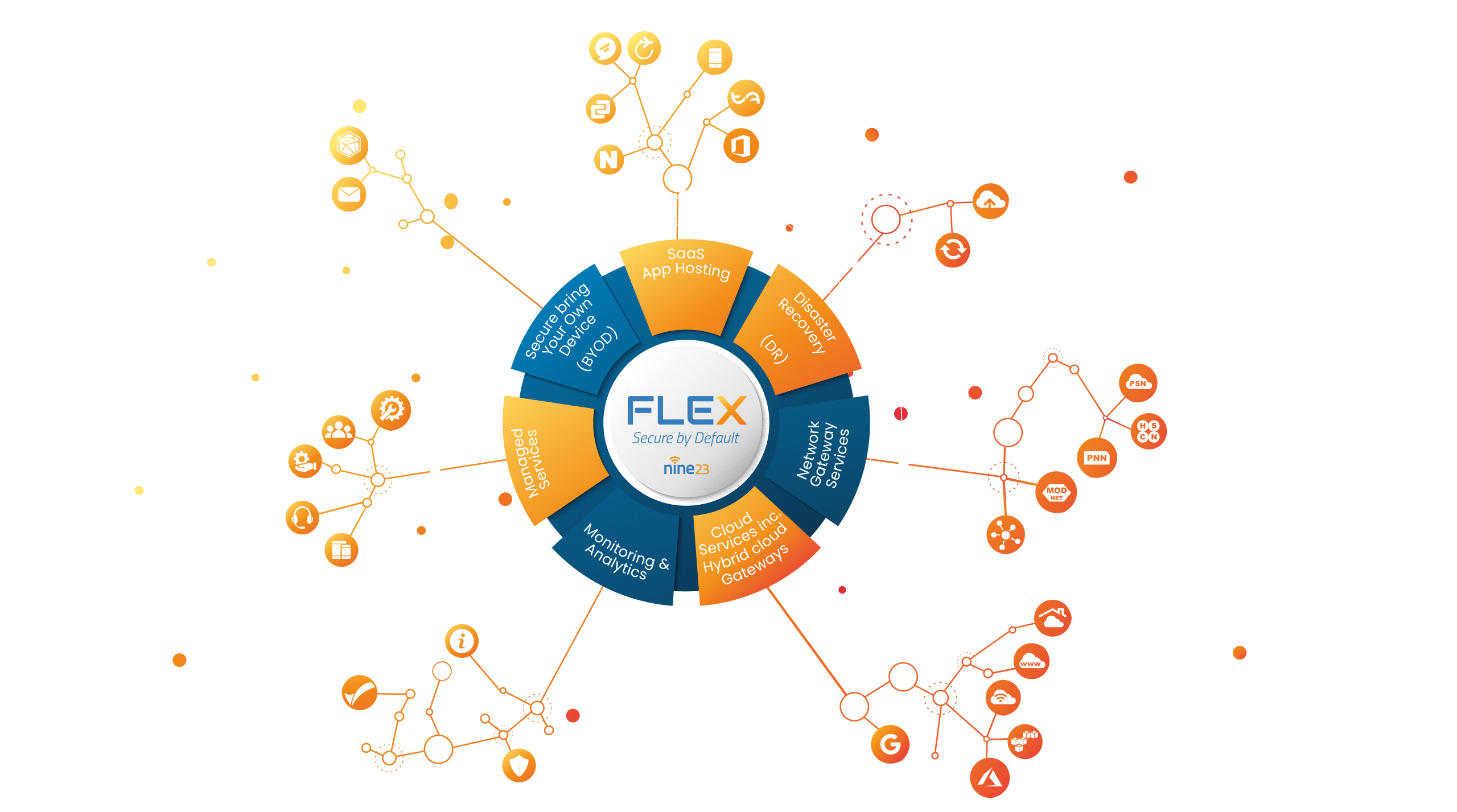 Find out what cloud solution you need today.
Fully managed or hosting service utilising a shared processing and storage environment for organisations with the similar data classification / security requirements – Up to OFFICIAL and with data transit separation from other organisations. This is a solution with a predictable / fixed cost tailored for your organisational needs.
All services have the ability to connect to other on premise corporate, cloud or other networks as needed securely. Data classification levels are guided by your organisation policies and risk acceptance.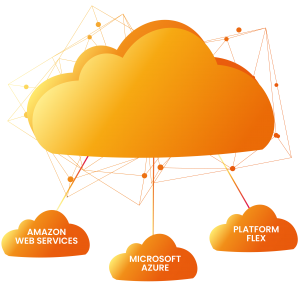 Want to know more about Community Cloud?
Why Choose Nine23 for Cloud Solutions?
Today's end-user expects to operate at work in the same way they do at home – consumer simplicity with enterprise security. We passionately believe that you, the client / customer / frontline end-user should be at the heart of everything we do, empowered to use technology securely and by delivering outcomes for your needs.
Nine23 is a highly competent trusted IT solutions company with a team of talented and experienced individuals. We have proven this through multiple service deliveries of user-focused, nationally accredited solutions, in complex environments and by enabling some very prolific end-users.
We have consistently achieved the highest levels of accreditation (ISO 9001, 27001, ISO/IEC 20000) from national bodies to provide confidence that the systems we develop can be used at highly classified levels of cyber security (OFFICIAL-Sensitive or Sensitive).
If your organisation requires the processing of UK personal data our fully managed, Nine23 owned enterprise infrastructure, Platform FLEX located in secure UK hosting locations with connectivity to government/corporate networks and internet connected organisations using proven secure access solutions to ensure your data is protected.
Our Latest Cloud Insights